When UGC matters
It felt great to unleash UGC knowledge at Naked UGC, and we hope it helped to inspire your own strategy. You can now consider yourself on the right path to becoming a UGC guru.
You had the chance to meet:
♦ Catalina Albeanu, Journalist and Events at Journalism.co.uk
@catalinacma – For journalism discussions, write to her directly.
♦  Josephine Curry, Associate at Taylor Wessing
@josephinecurry – If you need advice or you have problems regarding IP and copyright issues.
♦  Olga Egorsheva, CEO and Co-Founder at Lobster
@egolya – If you want to start licensing social content with Lobster, or just to have a chat about UGC generally.
♦  Adam Libonatti-Roche, head of Social at The Drum
@baconchin – If you want to become a superstar of The Drum.
♦  Loranc Sparsi, European Licensing Manager at Jukin Media
@jukinmedia – For viral UGC videos and the interesting cases around them.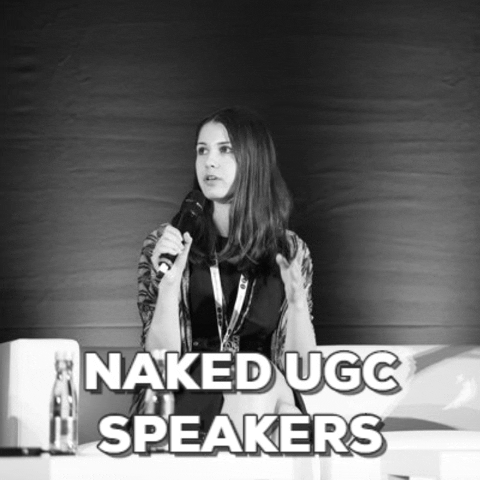 Key-Points from the Naked UGC talks
Josephine Curry said 'UGC can be a great tool to market your brand or enhance your editorial content, but remember:
Don't assume UGC is free to use or "public domain" just because it's online – copyright is everywhere!

Always seek permission and credit your source – this can prevent PR problems as well as legal ones.

Get permission from the right person. Just because someone is featured in a video or photograph or they posted it online doesn't mean they own the copyright.

Think about how you want to use the UGC – you will need different permissions for editorial vs commercial uses.'
Also read: Beyond UGC. Lobster's summer events
'The general public is desensitised to stock imagery and repetitive advertising. By using genuine photos created by ordinary people, you can cut through the noise and get noticed.'
'Each and every day, billions of images and videos are being created which are more authentic than stock photography.'
'Created by humans, curated by technology. It's not time-consuming to find and source something that perfectly fits your brand, media campaign or story when you use the right tools to do the heavy lifting for you.'
Catalina Albeanu: 'UGC isn't a trend. UGC is a relationship.' 
Adam Libonatti-Roche: 'Be careful to not think that your consumers will create UGC for your brand just because you want them to. Social media users are savvy as f**k and will not be pressured into doing something unless it provides them with something. This can be either entertainment, education, information or inspiration. The UGC needs to be valuable'
'User generated, trending and viral video are the most captivating and shareable UGC media in the content space.'
'UGC outperforms influencer and branded content 2 to 1 on Facebook and Youtube – it's 35% more memorable than other media and is 50% more trusted.'
'Trending and viral videos are relatable, language agnostic, 'snackable' and engage viewers of all ages and backgrounds.'
'Audiences connect with organic, relatable and real moments!'
Part of our mission is to shed some light on UGC, so keep an eye on us! We've got plans for more similar events in the future! Until then, join the UGC groups on LinkedIn and Facebook. You'll find a lot of valuable information regarding UGC and other members can help with any questions you might have.  
We'd love your feedback, so please add your thoughts on the event here.
Until the next time, I hope you'll befriend UGC and make your business shine!
Learn more: UGC Licensing, About Lobster Marketplace, UGC Galleries on Lobster, UGC Subscriptions
---
Also published on Medium.